Six Things to Do if You Have Been in a Crash
May 18, 2022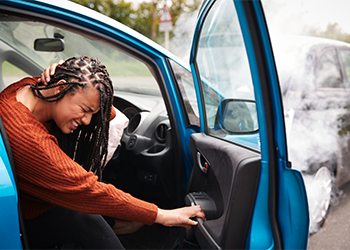 If you are the victim of the crash, you are already involved in a legal case. The police issue tickets, the district attorney prosecutes tickets, claims are made for property damage and medical expenses, and you may have the right to compensation for your suffering. These are all important things! And, the outcome of your case can greatly be impacted by the actions you take following a crash. What can you do to make sure your case works out the best for you? Here are some things you can do following your crash.
1. Get Medical Care.

Whether you are severely injured or are experiencing only mild discomfort, it is important that you immediately get medical help after a crash. Sometimes, small aches and pains turn out to be severe injuries. Talking to a doctor and documenting what has happened to your body will help your case if the problems get worse. If you delay, the insurance companies will argue that there is no proof that your injury happened in the crash.
2. Communicate and Follow Up with Your Treatment Providers.
When you go to the doctor, make sure he or she knows why you are there, and that you are seeking help as the result of a crash. Also, make sure you share the details of all the pain and discomfort you are experiencing. Being "tough" and downplaying your suffering simply gives the insurance company an excuse to avoid compensating you fairly, and they do it by using your own words against you. Regular treatment and documentation of your conditions are a key part of the evidence that will support your claim following a crash. These records are crucial for an attorney fighting for you.
3. Take Photos.
If you are able, take photos immediately after the crash. Pictures of the damaged vehicles, skid marks, and the scene can be very helpful for establishing your side of the case. Also take photographs of any physical injuries to your body. It may seem odd, but capturing photos of your injuries are very important to be able to show what you went through physically. Trying to convince a judge, jury, or insurance company how awful your injuries were months or years after the crash, with no pictures, is hard. A picture DOES speak 1,000 words.
4. Obtain a Copy of the Police Report.
After a crash the police will create a report. The police report can be an important piece of evidence in supporting your case. And you have a right to the report. If you are able, take note of the responding police agency and the name and badge number of the officer who came to the scene. Also ask the officer for your case number, and something in writing providing the initial crash information. We can obtain your full police report for you with no obligation.
5. Don't Speak to the Other Driver's Insurance Company or Accept Their First Settlement Offer.
The other driver's insurance company will try to contact you. The person you speak to will be friendly and may appear to be concerned about you. But this company is ethically and financially required to act in their driver's best interests, which is directly against yours! Avoid having a conversation (which will be recorded), so you can avoid saying anything that may be used against you. And, keep in mind that insurance companies are for-profit businesses. The less they pay you on claims, the better it is for business. Typically, you will initially be offered an unfairly low settlement. If you take it, you can't go back for more.
6. Hire a Lawyer.
Rather than trying to advocate for yourself, consider hiring a lawyer. When your case is handled by a qualified attorney you can focus on your recovery, with confidence that things are being done to maximize your case. You've also got someone to protect the many deadlines involved in a case (some as short as 10 days), to answer questions, advocate for you, and most importantly recover what you deserve. At The Rabin Law Firm your claim will be in attorney Ben Rabin's hands. We are not an "injury mill" where you will rarely speak to your lawyer and you will never speak to the guy you see on television. We are a small legal team that truly cares about the people we represent. When you hire The Rabin Law Firm you will get Ben from the beginning of your case until the end.
Call today (315) 448-2453 for a free initial consultation. We represent our crash victims on a contingency fee basis. There are no legal fees unless we win for you